Minty days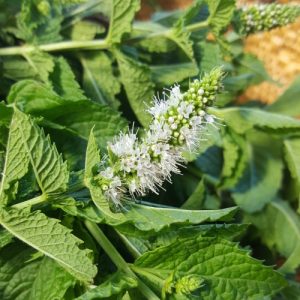 These days I get a little nostalgic. Just because I love summer's brightness, along with its long, warm days. But when I see the first mint tops becoming white and fluffy like cat's tail, I know the summer is well past its peak. The cooling, yet sweet strong aroma is a powerful consolation though. It soothes my senses and my spirit alike. It's such a profoundly intoxicating and invigorating scent. Pure delight.
Second time when I get this same vibrant kick is when I strip the dried leaves off the stems. My drying room becomes the most exciting herbal apothecary on earth.
To get and preserve all this goodness I pick the mint gradually as it goes into bloom, as that is when the plant reaches its maximum potency. I let dry in the shade until it becomes crumbly and then get it into jars with pure EVOO to slow sun-infuse for about 10-12 weeks.
That is when it is ready to go into the baby balm to provide much needed comfort, as well as into facial oils (such as the ones for combination and oily/acne prone skin) to balance the natural production of sebum.